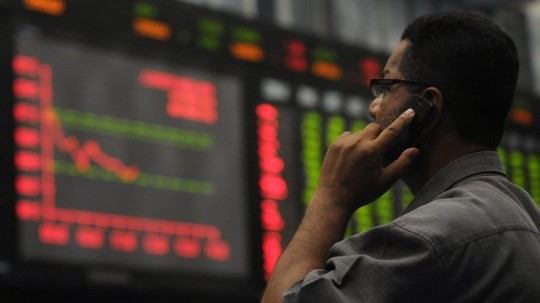 Strong remittance data, IT package lifts PSX
KARACHI:

The Pakistani stock market resumed its upward march on Wednesday thanks to strong economic signals and the government's announcement of an incentive plan for the information technology and telecommunications sector.
As a result, the KSE-100 index rose 242 points and approached the 47,400 point mark.
Investors weighed their sentiments on an encouraging reading of remittances, which reached $ 2.7 billion in July 2021. Strong revenues marked a positive start to the new fiscal year and motivated investors to take new positions .
The KSE-100 index climbed early in trading and gained nearly 500 points, however, momentum was halted as investors resorted to profit accounting which erased some of the gains at the end of the session. Investor optimism helped the index end the day on a positive note.
At the close, the benchmark KSE-100 increased by 241.9 points, or 0.51%, to stand at 47,377.38.
A report from Arif Habib Limited said: "There was strong sentiment on expectations of healthy earnings from major listed entities, which helped support the market. In addition, the incentives issued in favor of technology companies and the opinion of the Minister of Finance regarding the investigation against stock brokers also helped to develop a positive sentiment.
Banks, oil and gas marketers, cement, power and tech stocks have performed well.
The refinery sector also performed well due to anticipation of the refining policy eventually submitted for cabinet approval, the report added.
JS Global analyst Neelum Naz said the bulls took the KSE-100 to an intra-day high of 47,628 points. Despite some profit taking, the market eventually closed with a gain of 242 points to a level of 47,377, she said.
During the current earnings season, Engro Polymer (+ 3.5%) announced a cash payment of Rs 7 per share for the quarter. In addition to the refinery sector, Attock Refinery (+ 0.1%) and National Refinery (+ 1.9%) also announced their annual results.
"Going forward, we recommend that investors adopt a downward buying strategy in the steel, technology, refinery and cement sectors," the analyst said.
Global trading volume reached 382.6 million shares, up from 370 million on Tuesday. The value of the shares traded during the day was 15.7 billion rupees.
The shares of 472 companies were traded. At the end of the day, 222 stocks closed higher, 223 fell and 27 were unchanged.
Ghani Global Holdings was the volume leader with 27.6 million shares, gaining Rs 0.97 to close at Rs 43.43. It was followed by WorldCall Telecom with 26.7 million shares, losing Rs0.02 to close at Rs3.43 and Engro Polymer with 26 million shares, gaining Rs1.99 to close at Rs58.58.
Foreign institutional investors were net sellers of shares worth Rs 50.86 million during the trading session, according to data compiled by the National Clearing Company of Pakistan.