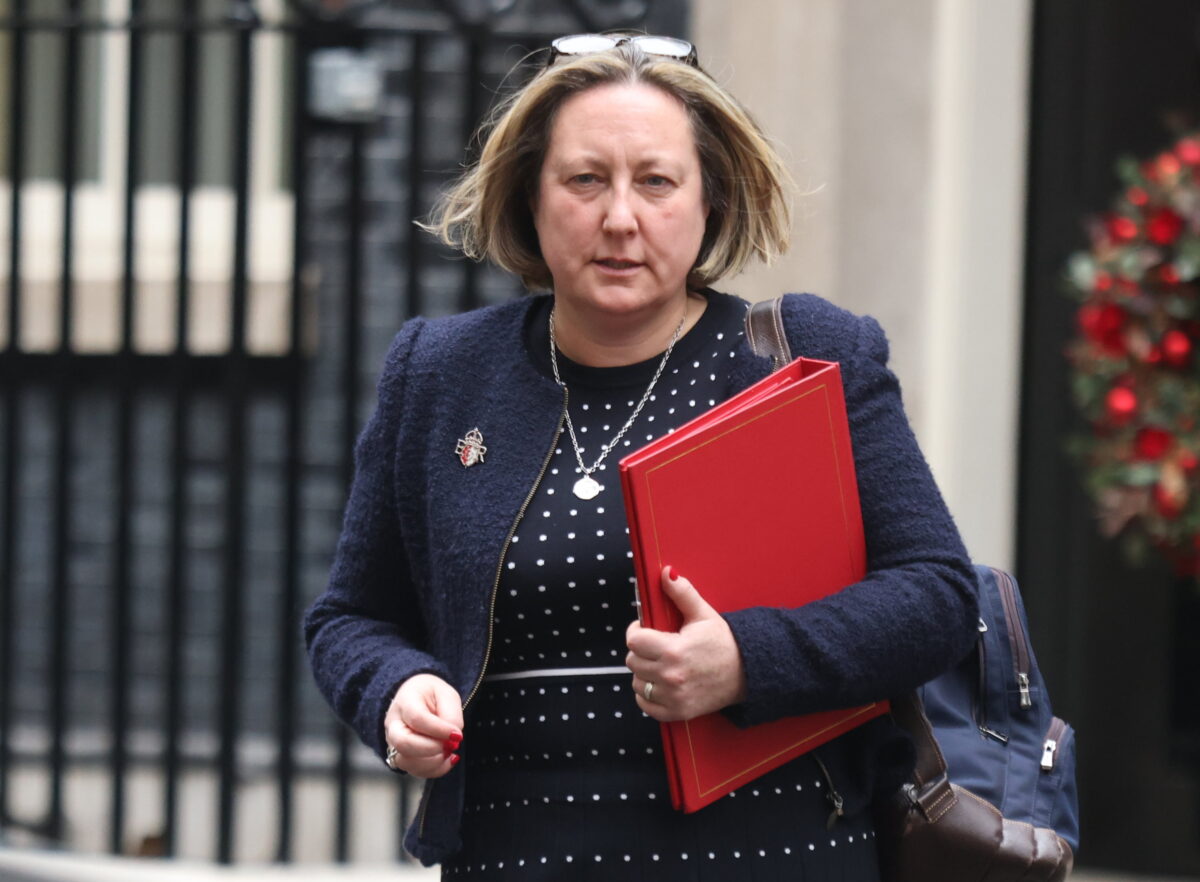 UK to extend quotas and tariffs on steel imports
The UK will deviate from its "international legal obligations" and extend quotas and tariffs on five categories of steel imports, a government minister announced on Wednesday.
International Trade Secretary Anne-Marie Trevelyan told parliament the measure was aimed at preventing "serious injury or threat of serious injury to UK steel producers".
Ukrainian steel products are exempt from customs duties, in a bid to support the Eastern European country in its fight against Russia, the minister said.
The main opposition Labor Party welcomed the announcement, but some Tory MPs were unhappy with the move 'on the road to protectionism' rather than seeking to cut the sector's energy costs, with a Scottish National Party legislator.
After leaving the European Union, the UK canceled EU trade remedies, including safeguards on 19 categories of imported steel products, meaning that a certain quota of products can be imported into a category before a 25% tax is imposed.
The EU tariffs were originally introduced in 2018 as a retaliatory measure after the US Trump administration imposed tariffs of 25% on foreign steel and 10% on aluminium.
Last year the UK government scrapped guarantees on four of the 19 categories, but extended the measures for three years for 10 of the categories.
Warranties on the remaining five categories, namely gas pipes, hollow sections, two categories of large welded pipes and other welded pipes, were extended for one year and were therefore due to expire on Thursday.
Trevelyan said they will be extended for another two years, ending June 30, 2024, along with warranties on the other ten categories.
National interest trumps international obligations
Trevelyan said that after reviewing the recent Trade Remedies Authority report, she concluded that "there would be serious injury or threat of serious injury to UK steel producers if the safeguard on the five additional categories of steel was to be removed at this time."
The minister blamed the move on "uncertain geopolitical and economic waters," including the CCP (Chinese Communist Party) virus pandemic, Russia's invasion of Ukraine, and "global disruptions in energy markets and supply chains". She also underlined the strategic importance of the steel industry.
Trevelyan admitted that this decision "deviates from our international legal obligations under the WTO [World Trade Organisation] agreement", but argued that sometimes "problems may arise where the national interest requires action to be taken which may conflict with normal rules or procedures".
Trevelyan told parliament that she had been and would continue to "deal with the international part of these processes" to ensure that WTO members "understand why we have made this decision and will therefore choose not to retaliate against any other industry".
She also said that the government has decided to suspend quotas and tariffs on Ukrainian steel products for the next two years.
Shadow International Trade Secretary Nick Thomas-Symonds said the announcement is "a welcome relief for the steel industry", adding that "it is not anti-competitive to provide a level playing field for our steel industry". He also backed the suspension of safeguards on imports from Ukraine, but said it was "regrettable" that the government would not make the announcement until "the eleventh hour".
Opposition
Tory MP Anthony Mangnall, a member of the International Trade Committee, said: "I never thought that being a free trader in this party would be such a rare and unique position to hold."
Mangnall said he was "fully in favor of supporting the steel industry", but not through protective measures.
"I ask the Secretary of State what message does this want to send to Australia, New Zealand, Singapore, Japan or any other country with which we sign free trade agreements when we finally invoke the national interest on the agreements that we've signed," he said.
Peter Bone, Tory MP for Wellingborough, said: 'I fear we have taken the route of protectionism rather than cutting energy costs.
Bone said Trevelyan had "mentioned net zero more times than you've mentioned cutting energy costs", referring to the government's plan to decarbonise industries, including the steel industry.
"There's no point in talking about green steel in the future if we don't have an industry," he said.
Former Tory minister Sir Christopher Chope has questioned the government's plan to ensure spin-off industry in his Christchurch constituency can 'stock up on clean British steel in two years' time.
"Otherwise, won't she have to abandon this net zero doctrine, because what could be more important than being able to supply local steel to the people of Christchurch to manufacture and export?"
Earlier this month Prime Minister Boris Johnson's ethics chief Lord Christopher Geidt resigned, saying he narrowly clung to his role on partygate but eventually quit after being forced into the "impossible and abhorrent" position by Johnson on steel tariffs.
PA Media contributed to this report.